In today's fast-paced tech world, DME/HME business owners need to keep up. While 85% of small businesses thrive on innovative tech, many are stuck with outdated legacy systems. Think of these old interfaces like quicksand. Research tells us that clunky user interfaces hold back nine out of ten businesses, keeping them tangled up with these digital dinosaurs.
However, there's hope. As technology advances, DME/HME business owners are recognizing the transformative power of modern User Interfaces (UIs) for enhancing the digital employee experience. Let's explore application modernization and its potential for your DME/HME business.
Breaking Free From the Past: Why DME/HME Businesses Must Embrace Change
Picture legacy systems as relics from the digital dark ages – they're outdated, clunky, and about as user-friendly as a Rubik's Cube in the dark. These ancient applications are time-sucking, driving modern employees in the DME/HME sector up the wall with their never-ending lag and repetitive tasks.
Worse yet, legacy systems lack the agility and adaptability needed to thrive in the ever-evolving healthcare landscape. They're stuck in the past, which can make daily tasks feel like solving a puzzle, and they struggle to meet customer demands.
The result? A tangled web of integration woes and plummeting productivity for your DME/HME business.
Charting the Course Ahead: Transforming Employee Experience with Cutting-Edge UIs

Let's dive into how modern UIs are shaking things up for DME/HME businesses, making work a breeze with user-friendly, automated, customizable interfaces that play well with other software.
Intuitive Design Modern UIs put user-friendliness front and center. They're all about easy navigation and functions that even your tech-challenged aunt could handle. DME/HME employees can dive right in without needing a PhD in software.
Seamless and Flexible Say goodbye to mind-numbing tasks! Modern UIs automate the mundane, streamlining workflows, and supercharging efficiency.
Tailored Perfection Modern UIs empower you to craft a digital workspace that fits your DME/HME business like a glove. No more one-size-fits-all solutions; it's all about customization for your unique workflow.
Integration Champions In a world where connectivity is king, modern UIs wear the crown. Unlike legacy systems, they play nice with other software and tools. Enter NikoHealth, and say goodbye to data silos and hello to visibility for your DME/HME business!
Why the UI Makeover Matters for Your DME/HME Digital Dream Team
Now, let's see how these innovative UIs can level up the Digital Employee Experience for your DME/HME business:
Boosts Productivity Modern UIs make work smoother, leading to improved efficiency and less stress – a must-have in the whirlwind world of healthcare.
Happy Campers With a user-friendly experience and customization, modern UIs empower your DME/HME superheroes. The result? Smiling faces and a more productive team for your DME/HME business!
No More Training Marathons Modern UIs have a gentle learning curve, sparing your training department. They're a hit with healthcare professionals in your DME/HME business, too!
Stay Ahead of the Pack DME/HME organizations embracing modern UIs gain a competitive edge. They're nimble, adapt quickly to regulations, and attract fresh talent.
Golden Retention and Revenue Modern UIs mean happy employees, lower attrition rates, cost savings, and, ultimately, a fatter bottom line for your DME/HME business.
The Grand Finale: How NikoHealth Can Transform Your DME/HME Business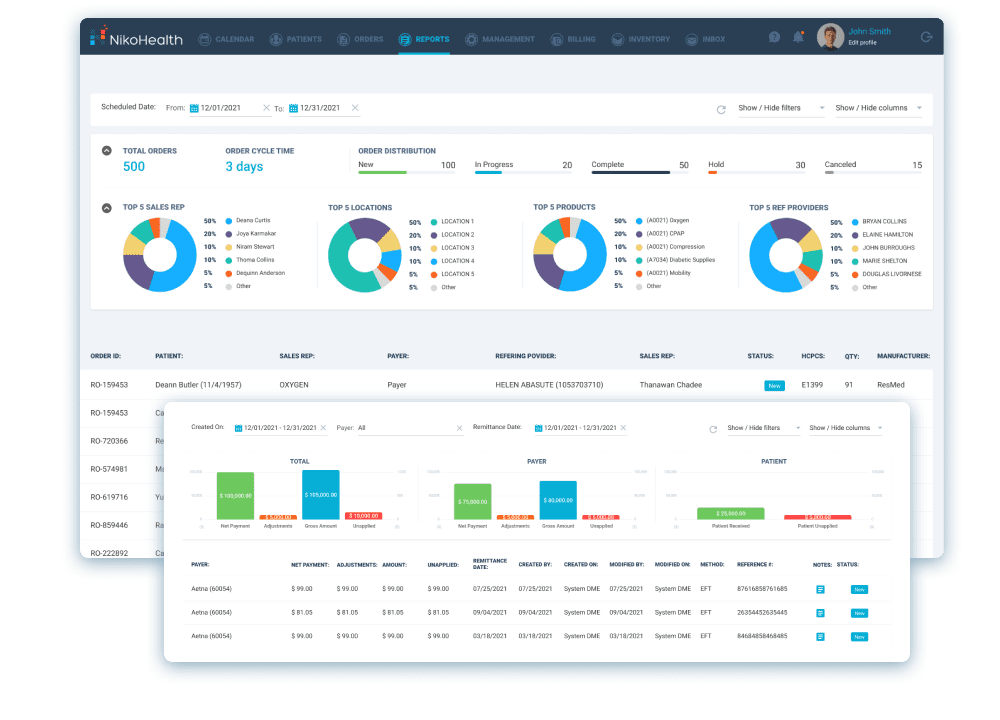 Imagine modern UIs as the magician's wand, waving away workflow bottlenecks, boosting productivity, and fattening up your revenue for your DME/HME business. Enter NikoHealth, your ticket to a digital transformation that elevates your employee experience.
Our robust solution comes packed with innovative features like automation, support, and seamless integration capabilities tailored specifically for DME/HME businesses. Head over to our website today to discover how NikoHealth can make your DME/HME business a digital superstar! Learn More