HME | DME Software
A cutting-edge all-in-one cloud-based home medical equipment business process automation software
Request a Demo
The Most Innovative Organizations Partner With NikoHealth
Home Medical Equipment Software to Drive Your Digital Transformation
Simplify the Way Your Team Works

Operate on a single cloud-based platform that powers your business workflow holistically.

A Standout User Experience

Easy to use and intuitive HME DME software to engage your team while effortlessly reducing the learning curve and boosting productivity.

Real-Time Insights

Unlock innovation with full visibility into your operations and revenue cycle to make decisions faster.

Powerful Ecosystem and APIs

Streamline all aspects of your supply chain by leveraging our APIs and through our integrated partner ecosystem to improve efficiencies and drive growth.

Our Expertise, Your Advantage

Expert support and services to help your digital transformation journey. Our dependable implementation complements your business goals while nurturing best practices.

Mobile App

Modernize your operations and offer a digital experience with our powerful and easy-to-use mobile app available for Android and iOS devices.
Power Your Business to Outperform
Simplify everything with NikoHealth; improve productivity, increase revenue and provide better patient care within one HME | DME software
Patient EMR
Order Flow
Documents
Delivery App
Reporting
Scheduling
Billing
Inventory
Patient EMR
Order Flow
Documents
Delivery App
Reporting
Scheduling
Billing
Inventory
Patient EMR
Organize the patient view with an easy-to-navigate patient record. Review order history, financials, prescriptions, and manage day-to-day tasks with smart workflows to give your team real-time visibility in one consolidated platform.
Order Flow
Centralize your order processing and streamline intake through delivery. Simple order creation allows your team to see stock availability, manage documentation, log prescriptions, check insurance benefits, share patient estimates, and more all while handling the order lifecycle with ease.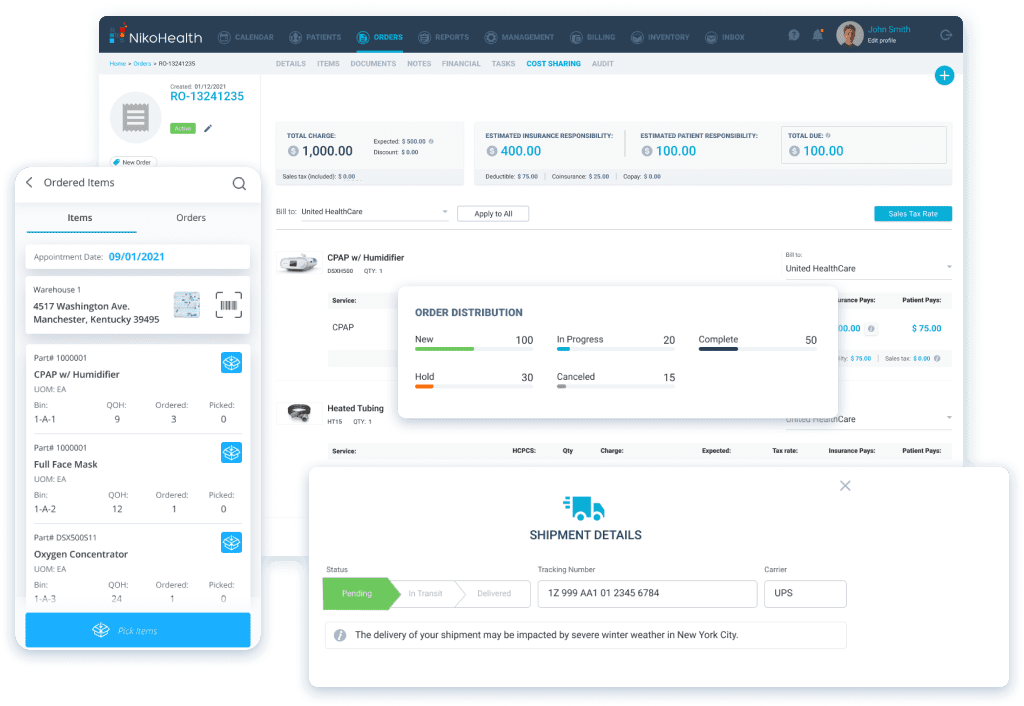 Documents
Manage documents easily with instant access within the patient record. Customize your document library and scan or automatically file digitally completed documents from the field. Reduce errors with custom forms and make information well organized and accessible.
Delivery App
Improve field efficiency and go paperless with our native easy-to-use Delivery mobile app. Digital documentation, proof of delivery, navigation, inventory management, payments, and other functions right on your smartphone or a tablet.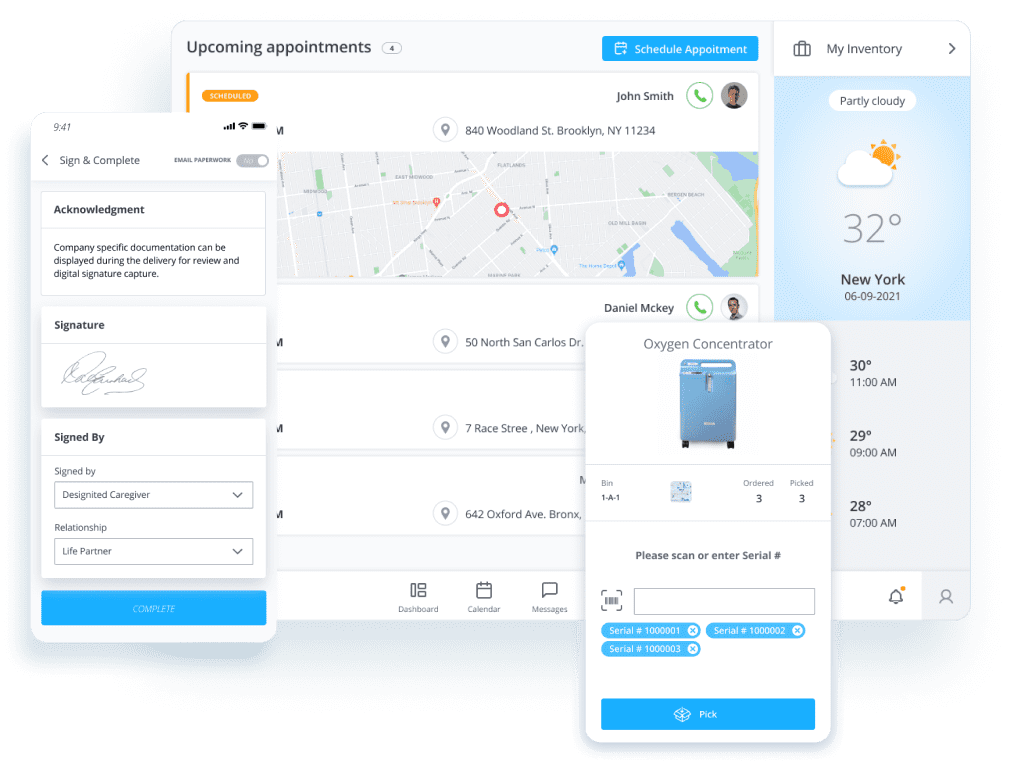 Reporting
Manage the complex data in your business with fast analytics and easy reporting with insightful reports and KPIs to give you the data you need to make decisions quickly.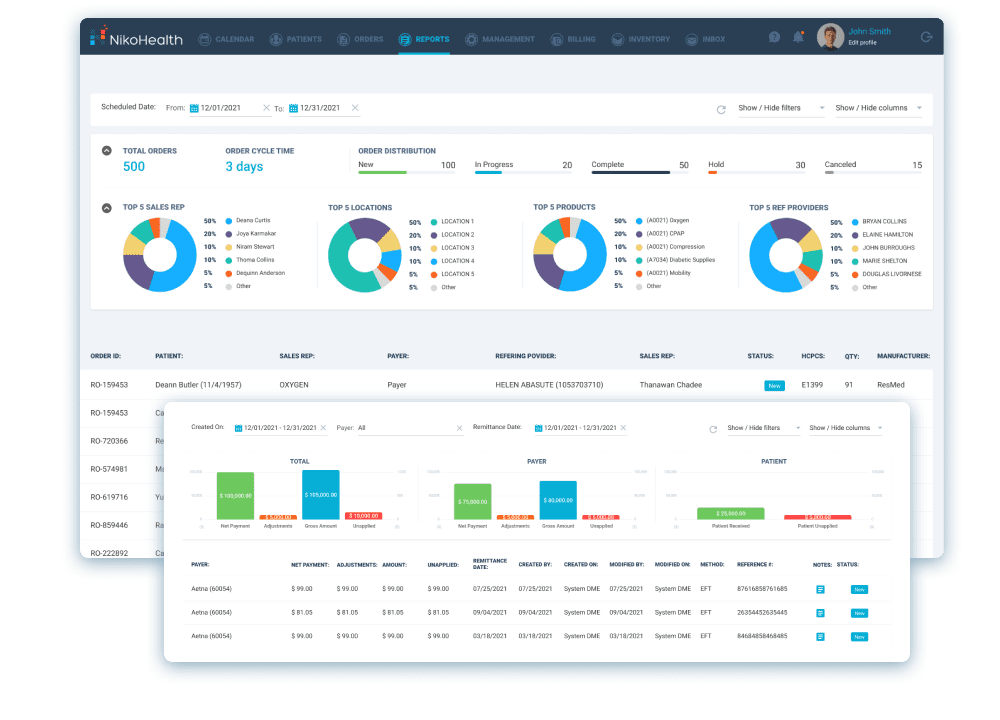 Scheduling
Reduce windshield time, increase staff productivity, and respond to customers faster. Automate your scheduling needs with a flexible, configurable, and rules-based scheduling platform while offering your patients appointment times in store, or at the home.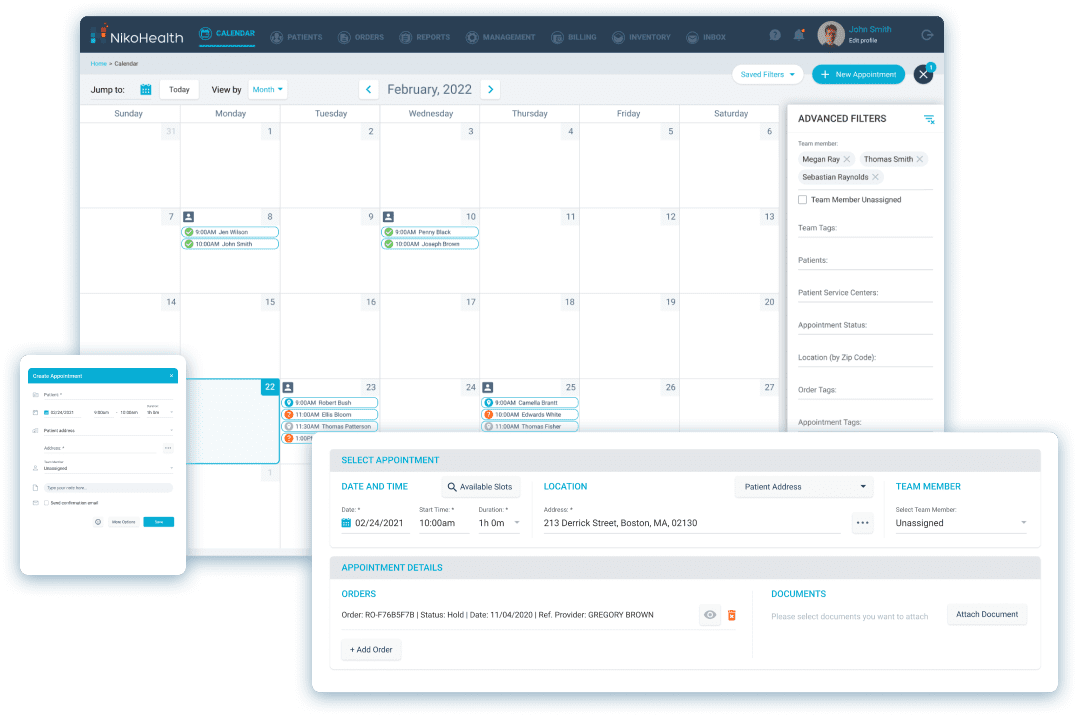 Billing
Boost revenue and bring automation to your billing and revenue cycle management. Seamlessly manage third-party and patient invoicing with electronic claims, payments, authorizations, denials, and more to streamline the end-to-end HME | DME operations.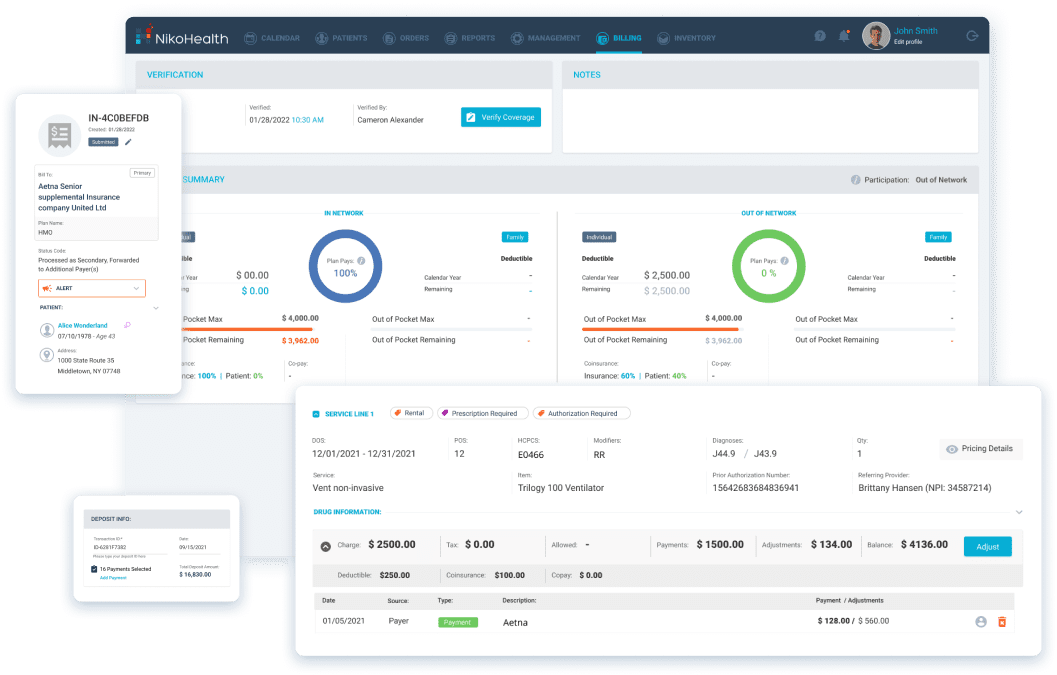 Inventory
Effortlessly manage your inventory digitally whether in the warehouse or on the go and allow your business to scale. Track inventory across multiple sites and keep a pulse on what's on the shelves to avoid missing out on sales while investing your cash wisely.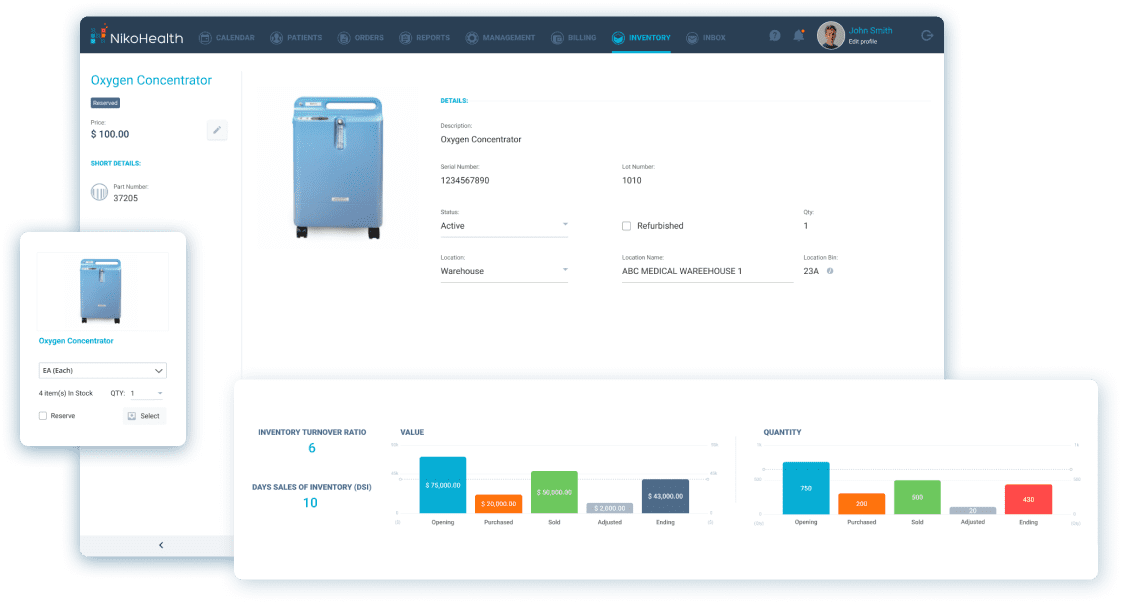 Get Ready to Work Smarter, Better, and Faster
All In One

Eliminate the waste of multiple systems and give your team all the features of NikoHealth, bringing all your work into one place with an intuitive HME/DME cloud-based software that makes jobs easier and workflows more productive.

Simplified Billing

Accelerate the impact to improve your bottom line with the latest technology platform designed exclusively for the HME/DME provider. Decrease the time to payment and increase collections while reducing manual work. Streamline everything in the revenue cycle process with intelligent automation, from easy invoicing and benefit eligibility to automated payment posting.

Faster Order Fulfilment and Inventory Control

Improve the end-to-end process of getting patients what they need when they need it. Efficiently handle everything, from order processing to shipping, home delivery, and dropshipping.

Intuitive User Experience

Onboard new employees faster and increase employee performance with thoughtful and easy-to-use workflows.
Optimize your operations from order fulfillment, inventory control to revenue cycle
76%
faster order fulfilment times with intuitive and connected workflows
92%
fewer out of stocks with real-time inventory control
98%
clean claim rate with enhanced claim automation
40%
increase in up-front collections with patient estimates
99%
reduction in paper with digital processes from order fulfillment to billing and payment posting
100%
increase in employee happiness, working with user-friendly HME DME software

NikoHealth is an innovative DME software solution that allowed us to accelerate our operations and take our business to a new level.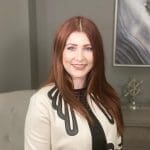 Want to Make the Software You Use Your Competitive Advantage?
Schedule a One-on-One Demo Today
Request a Demo
Integrations
Wherever your teams work, bring it all together here with our integrations and APIs in one HME software
Frequently Asked Questions
Why is NikoHealth the right DME solution for my business?

Operate a single modern cloud-based platform that your business workflows while eliminating multiple systems. With our standout user experience and easy-to-use and intuitive user interface, your team will love working with NikoHealth. Scalable for organizations of all sizes and with a focused mission to enable our customers' growth through innovation, NikoHealth is the right solution for you.

How much does HME/DME software cost?

We have a transparent and straightforward pricing model without any hidden fees that works for companies of all sizes. To learn more, please contact our sales team: at inquiries@nikohealth.com

How long may onboarding take?

When you sign up with NikoHealth, our guided implementation and onboarding process supports getting your team ready to begin using NikoHealth. Depending on whether you are switching from another software or kicking your operations into gear from scratch – you can have access within 48 hours so your team can begin. If data migration is required, our team of experts is here to hold your hand through the entire process so that you can start using NikoHealth.

Do you have a mobile app?

Yes, NikoHealth has a convenient, user-friendly mobile app allowing to manage HME/DME delivery process effectively.

Is NikoHealth software secure?

NikoHealth's industry-leading security program is based on securing our organization and your data at every layer. We continue to earn certifications adhering to the most broadly recognized security standards and employ rigorous measures at the architectural and operational levels to keep your data safe. With enterprise-grade security to help protect your data, from identifying and access controls to ensuring all data is encrypted at rest and in transit. HIPPA COMPLIANT and ISO27001 Certified.

Does NikoHealth integrate with other solutions?

Whatever your business needs to connect, design-build, and automate using our extensive suite of APIs or leverage our industry-leading integrations to streamline your workflows from billing to patient home delivery and many others.
Our Latest Highlights and KnowledgeBase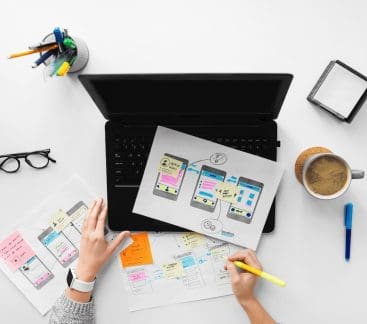 Legacy vs. Leading Edge: How Modern User Interfaces Elevate Employee Experience
DME/HME business owners recognize the transformative power of modern User Interfaces for enhancing the digital employee experience.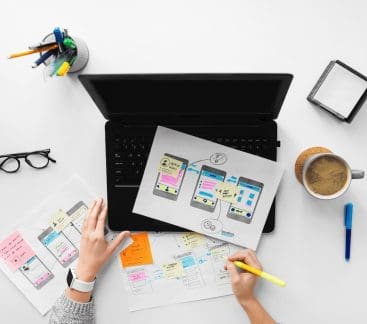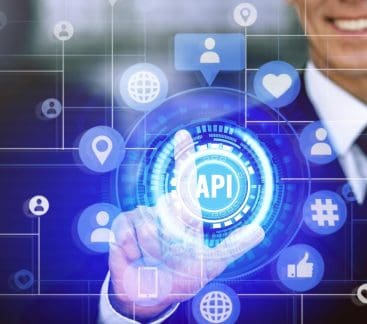 Streamlining Your DME/HME Operations: The Transformative Power of API Integrations
API integrations have emerged as the secret weapon for DME/HME suppliers, offering a lifeline to overcome today's challenges and elevate operational efficiency.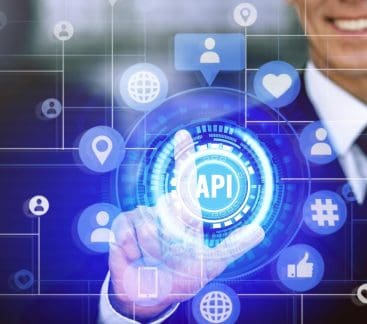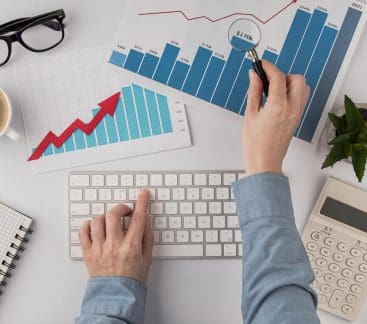 Transforming the DME/HME Suppliers Business to Capitalize on the Increased Demand From Baby Boomers
With baby boomers making up 76 million of the population (and having discretionary income for medical), it's about time DME/HME providers prepare goods and services to address this generation's needs.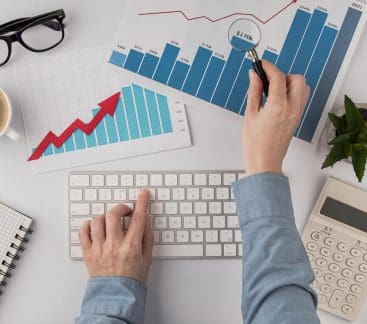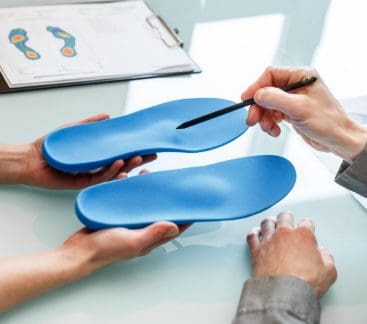 Choosing the Right Software for Your Orthotics and Prosthetics Business
The business of O&P requires companies to operate as efficiently as possible while streamlining workflows, improving collections, managing inventory and reducing AR. Oftentimes providers are using multiple systems to complete business functions requiring more manual effort resulting in higher costs. Here are some things you may want to look for when evaluating the right software for your business.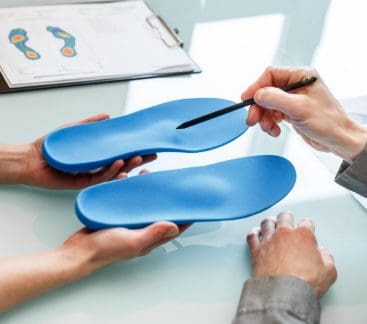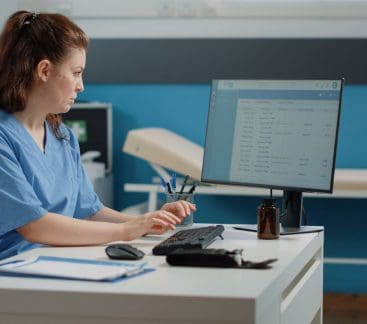 Addressing DME Coding Issues
What DME suppliers should pay attention to is DME coding. Faulty DME coding can affect your DME billing system. For example, if you don't get reliable DME coding, your customers' insurance company may deny or reject your payment claims.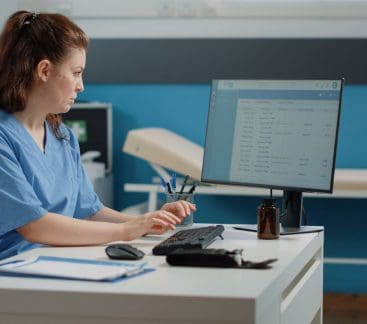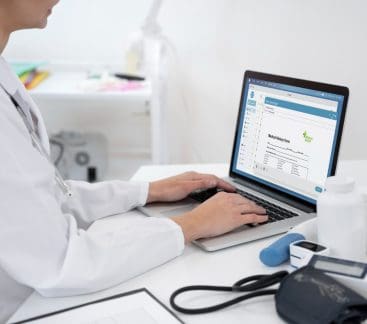 Benefits of Patient EMR to DME Businesses
It's a good practice for healthcare providers to have a central repository of patient electronic medical records (EMR) to coordinate with other healthcare networks and providers. EMR is essential, as it allows caregivers to keep and track a patient's health history across multiple clinical settings. The EMR system also facilitates the creation of shareable medical data.