Organizations like yours are looking for ways to improve operational efficiencies and reduce costs while at the same time meeting increased demand for home medical equipment and supplies from patients.
DME providers are faced with a variety of complex coverage guidelines from government and commercial payers. These coverage guidelines not only dictate the medical necessity of durable medical equipment and supplies but place an administrative burden on DME suppliers. This burden requires documentation provided by prescribing physicians to be conforming and made available by the DME supplier in the event of an audit or payer request.
As a result, DME suppliers face significant challenges when it comes to managing the RCM process. They need to deal with order management and supply chain logistics, documentation, claims processing, and collections. And with many moving parts in the process, identifying problems and inefficiencies is the key to streamlining operations.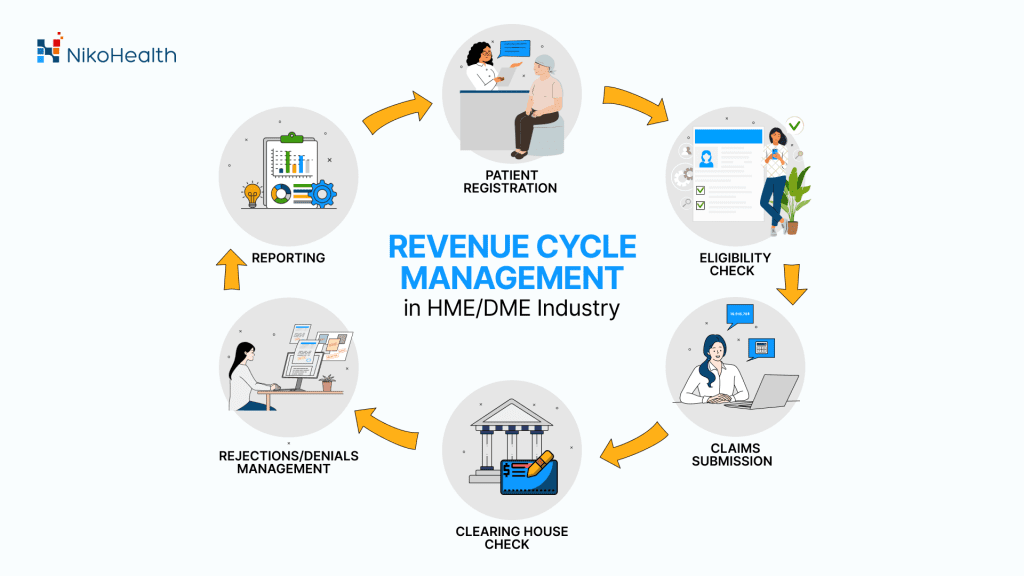 This is where implementing an HME/DME automation software comes in. With the right tools that help you improve your RCM process by automating repetitive tasks and eliminating errors so you can focus on what matters most.
That's why technology is more important than ever before. A robust patient management and billing software can help HME/DME providers make the best use of their resources—and improve patient care—by removing manual processes from the equation, reducing errors and improving net collections.
With our cloud-based, all-in-one HME/DME software, you can eliminate the waste of multiple systems and processes. The software allows for easy management of all aspects of your RCM process, including claims submission, denial prevention and collections. Our system is designed specifically for home medical equipment providers enabling an efficient revenue cycle process.
With NikoHealth, automating the claims and collection process improves the profitability of your business.
Regardless of the size of your company, getting paid for services and equipment provided is critical. Submitting a claim, the first time and getting paid is the goal. 50% of rejected or denied claims don't get reworked. That's lost revenue and resources wasted that impact your business bottom line. The reality is rejections and denials go untouched until they pass timely filing, or just can't be successfully paid.
Stop dealing with rejections and denials, and improve your clean claim rate with an intelligent automation platform like NikoHealth:
Reduction in DSO
Achieve a 95% or higher first pass acceptance rate
Identify errors in real-time, reducing front-end rejections and denials
Improve your net collections while reducing days in AR
NikoHealth simplifies billing and collections for your team. When it comes to your business, time is money. If you want to make sure that you get paid for every single order, your need to make sure that your systems and processes enable fast and easy revenue cycle processes.
With NikoHealth:
Catch missing or expired authorizations
Identify missing claim information such as diagnosis, HCPCS, and referring provider exceptions
Automate coding and modifier requirements
Eliminate the waste of complex and complicated systems, paper and remove manual touchpoints where possible.
When it comes to the speed and efficiency of your RCM process, streamlining operations from the moment an order is received through fulfillment and billing will ensure that claims go out the door without errors and get paid.
That's why we are committed to providing you with the latest patient management and RCM software on the market enabling a happier experience for your team.
Learn more about how NikoHealth can help your team work smarter, faster, and achieve your collection goals today.