Navigating the ever-evolving healthcare landscape can be a daunting challenge for Home Medical Equipment (HME) and Durable Medical Equipment (DME) providers. From managing inventory effectively to ensuring timely patient care and wrestling with complex insurance billing processes, these hurdles are no small feat. However, there's a game-changing solution on the horizon: API integrations. In this blog post, we're diving into the world of APIs to discover how they can revolutionize DME/HME operations.
Unlocking Efficiency with API Integrations
API integrations have emerged as the secret weapon for DME/HME suppliers, offering a lifeline to overcome these challenges and elevate operational efficiency. These integrations enable seamless connections between your systems and other applications, simplifying processes and ultimately enhancing patient care.
Demystifying API Integrations
So, what exactly are API integrations? At their core, they facilitate the integration of various software programs, enabling seamless data sharing and communication. Imagine being able to connect patient management platforms, billing software, and inventory management systems, all accessible through a single, user-friendly dashboard.
The primary advantage? Automation. APIs automate data transfer between systems, reducing manual entry and the potential for errors. This translates to increased accuracy, streamlined operations, and more time for your staff to focus on critical tasks.
Transform The Way Your Team Works With APIs
Connect CRM Solutions Let's assume you are using a CRM solution to manage your sales and marketing efforts. In your patient management and billing system resides all of your order data, including referring providers, items, and financial details. You may be currently passing some data between systems or, more likely, entering it manually into your CRM. Using an API can effectively and automatically pass data between systems, enabling your team to have the needed real-time data with a no-touch approach.
Patient-Facing Applications With retail becoming an increasing share of many businesses in the home medical equipment industry, many suppliers are capitalizing on e-commerce websites. These sites allow patients to place orders, identify co-insurance and co-pays and pay bills. However, the common struggle is connecting these e-commerce websites to backend patient management, fulfillment, and billing systems. The lack of connectivity leads to fragmented processes, including multitasking, slower and inaccurate order fulfillment, and a poor patient experience. With a powerful and interconnected ecosystem, leveraging a pre-built API can pass order information between systems, including item stock availability, order tracking, insurance, and payment information.
Advanced Analytics and Reporting Data analytics are a potent tool in healthcare, and API integrations empower DME/HME providers to harness this tool. Integrating various platforms provides access to detailed data on equipment usage, patient outcomes, and operational efficiency. Real-time reporting keeps you up to date with the latest information about your operations.
Automation for Everyone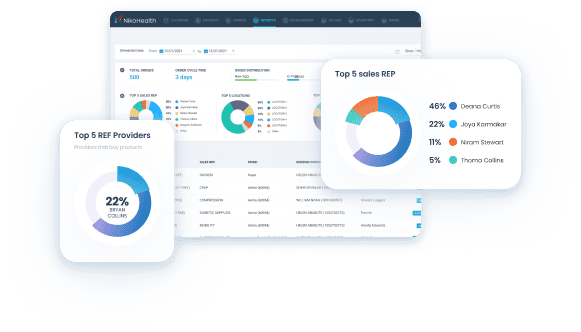 It is no secret that many HME/DME suppliers operate on a multitude of systems and processes to accomplish business functions. From e-commerce sites, CRM, inventory billing, and collection solutions, oftentimes, these fragmented systems require repetitive and manual tasks to accomplish the work at hand to move data between systems. These slow and manual processes cost time and money, leading to inefficiencies across the supply chain while increasing human error and impacting a business's bottom line.
Many HME/DME suppliers operating on dated technology platforms are limited to the capabilities of the systems themselves. Businesses struggling to bridge data from obsolete file-sharing protocols or limited API functionality find themselves faced with repetitive data entry across systems.
API integrations are a game-changer for DME/HME providers, poised to improve patient care and optimize business processes. As you delve into the realm of API integrations, NikoHealth stands as your unwavering partner. Our pre-built APIs seamlessly elevate your operations, supercharging efficiency and elevating patient care. In an ever-evolving healthcare landscape, NikoHealth's APIs are your competitive edge, solidifying your position for a thriving future. Embrace the transformation with NikoHealth today.
Bring data and streamline workflows across systems, making jobs more accessible and your teams more productive. If you are looking to spark inspiration on how your team can save time and automate repetitive tasks with NikoHealth's APIs. Get a Demo Here.